As you take on different freelance writing clients, you will begin to learn not only what clients want to see in the finished content you deliver but also how much they want to interact on the project. Sometimes, a client will want to simply give you some basic guidelines with a content order and not hear from you until the content is ready. In other cases, your clients may want to take a more collaborative approach—or, you may suggest collaborating to make the best possible impression and ensure that the project gets the attention it deserves.
Of course, you might wonder how you can effectively work on your client's team if you are working remotely, as so many freelancers do. You may also be uncertain what your role is in a project and where you have the freedom to make suggestions or offer new ideas. This article will help you go into collaborative work confidently, without making troublesome missteps that could damage your client relationships.
Why Is Client Collaboration Important?
Many freelance writers take on a lone wolf mentality. After all, one of the biggest draws of freelance writing is being your own boss. So, collaboration may not sound like something you want to do at first. However, collaborating with a client doesn't mean getting bossed around by the client—it's a way to share ideas and build a better finished product than you might on your own. Collaboration also eliminates surprises, such as an unsatisfied client who requests a full rewrite when you're ready to move on to your next project or a sudden change in the project direction when you've already completed half the writing. Finally, it's worth considering the value that can come from a partnership with a freelance writing client, rather than a simple assignment and paycheck. You might become integral to a company's marketing team, becoming a regular consultant contracted by that client.
If you're not sure where to start with a collaborative project approach as an independent freelance writer, follow these guidelines.
Get Behind Your Client's Goals
Even if you won't be communicating with a client much as you complete an assignment for them, you will want to know the goals of the content you're producing. Often, writing is only one piece of a larger project, so you will want to know the full context to capture the right tone and present the information that the client needs.
Ask Your Client How Much Input They Want from You
Clients may not be forthright when it comes to their needs. Some clients you work with will have no experience working with a freelance writer, so they don't know what to ask for. Take it upon yourself to ask how much input the client wants from you on a given project and highlight areas where you might help that the client may not yet have thought about. For example, you may offer to sit in on a marketing brainstorm session or attend weekly meetings with an internal content team.
You also shouldn't wait for a client to ask you for ideas. If you think of an approach that might benefit the project or become a new project of its own, share this with your client and outline how you can contribute. As a collaborative freelancer, you can pave the way toward more consistent work assignments, because you will be offering your clients strategies to continue their growth and development.
Use Modern Collaboration Tools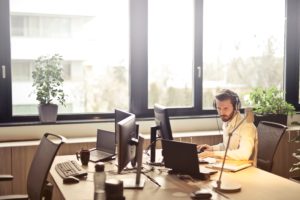 Communication is key for collaboration, but if you're hundreds of miles away from your client's office, how can you stay tuned in? Fortunately, modern technology has you covered, and there are tons of apps out there that can help you collaborate remotely. Here are a few of the most useful and universal:

Slack
Slack is a messaging app that can let you build different chatrooms where team members can all share thoughts, questions, and updates. It's also easy to share files in an instant and pin messages so they don't get lost in the flow.
Google Drive
Shared documents make collaboration easier, because everyone has access and knows exactly where to look for a given file. It's also easy to comment and live edit, so you can work together on the creative process as it happens, rather than only checking in through meetings and messages.
Skype
Sometimes it is helpful to feel like you're right in the room for a brainstorm session or client meeting, and Skype can help you capture that feeling with a video conference.
Along with these apps, you should also have guidelines for how and when to communicate. For example, you might use Slack for day-to-day communication and have weekly check-ins on Skype or send a weekly email report. No matter how you choose to communicate, make it clear how your client should reach you for different project matters.
Keep a Regular Project Schedule
Freelancers tend to keep odd schedules, so you might not be online and available when your clients need you. Therefore, it might be beneficial to alter your schedule for your client's needs. You might designate certain hours of the day when you will be at your computer and share that schedule with your client, so they know when to schedule meetings and how soon they are likely to hear back from emails and other messages.
For organizational tools, job hunting resources, and everything else you need to keep your freelance career in order, check out Writers Work. We make it easy to succeed and grow as a freelance writer in any niche. All you need to do is start your membership. Click over to our homepage to learn more.